Eric Energy shows can help make your STEM Night & PTA Program a huge hit!
Organizing a PTA event or a STEM night can be challenging. Eric Energy and Team Eric Energy are here to help! Our shows are a great tool to use in your program planning. We will entertain the whole crowd for up to 60 minutes before they break into smaller groups. We can also do shorter shows that can serve as as one of your stations. We're prepared to customize our schedule to fit yours

Eric has performed at hundreds of elementary and preschool STEM night and PTA programs. He currently works with several library systems. He is also a regular performer at Johns Hopkins Applied Physics Lab and Port Discovery Children's Museum. He was a featured performer at the Stafford, VA Science and Engineering festival and at the Bethany Beach Earth Day Celebration. He has performed for several "Take Your Child to Work Day" programs and family festivals.

Students will be engaged for the entire STEM night or PTA show and they will want to be involved and ask questions. They will love to participate in a dynamic STEM night science show and will be chanting I LOVE SCIENCE after. Parents will also be entertained by the science show and they will love how their child becomes so excited and wants to learn more about science.

Eric can continue the learning by offering online links to home science experiments and interesting facts. Be a PTA/PTO hero! Hire Eric Energy for your next STEM night or PTA event!
---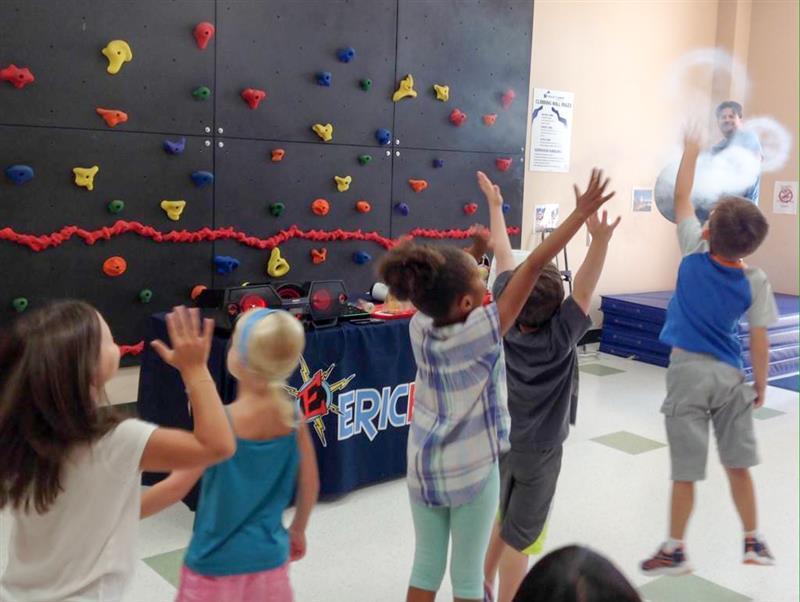 "We had a visit from Eric Energy today! All the children enjoyed his interactive show, Science Spectacular!! We learned about wind movements and saw different size fog vortexes. We also learned about and experimented with dry ice."
---