24-Aug-2020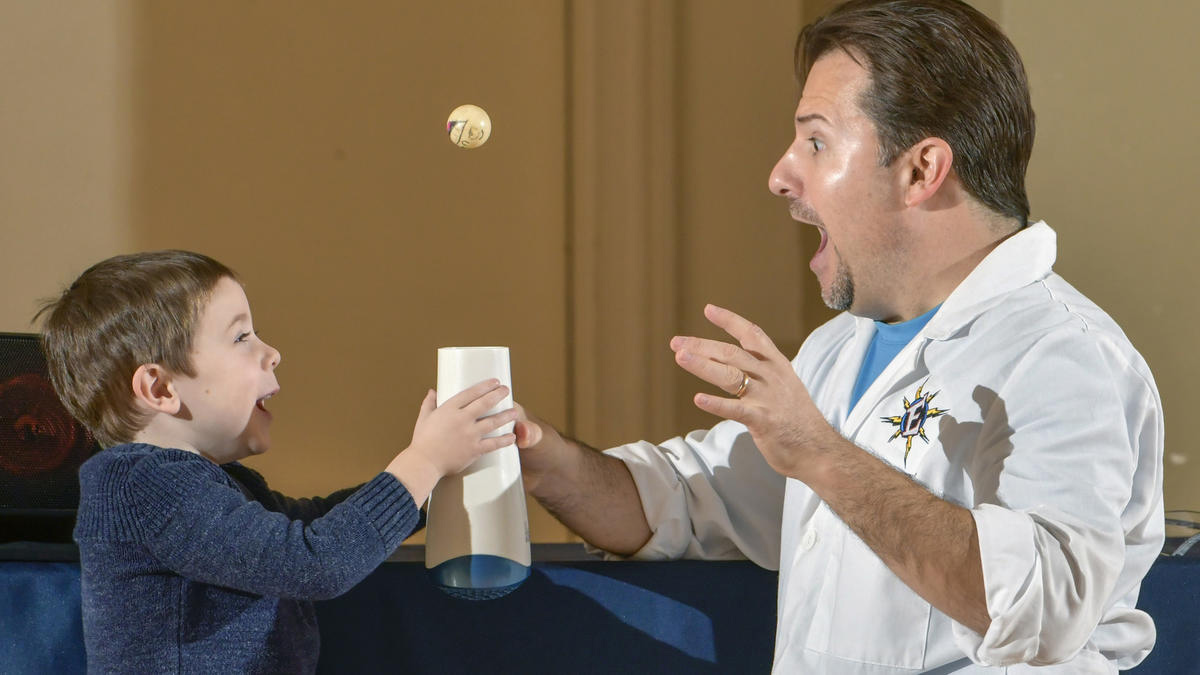 Ellicott City's Eric Energy makes science exciting for children
By Valerie Bonk
For Howard Magazine
Creating fog clouds, bubbling potions, and laser light shows are some of Eric Krupkin's favorite hobbies.
With the right chemicals, a white lab coat, and a simple flick of the wrist, Krupkin, 42, uses these skills to transform from an Ellicott City husband and father of two into Eric Energy, a science educator and performer putting on close to 300 shows throughout the region each year.
"I love getting the children to say 'wow' as the fog consumes the floor and creeps toward them," says Krupkin of one of the many experiments he performs for children as part of his act. "Knowing that I'm sparking their curiosity and making them want to learn more keeps me going."
While it's now his reality, this wasn't Krupkin's lifelong dream. Rather, he took an unexpected path to entrepreneurship and ran his own science show business.
He didn't even major in science. Krupkin graduated from the State University of New York at Albany with a bachelor's degree in communications and ended up moving to Florida to begin his search for a career.
"While I was down there, I interviewed for various communication, broadcasting, and journalism jobs and ended up getting a job with a company doing science shows for young children," Krupkin says. "I found out by surprise that I was good at it and it was really enjoyable for me." While he was there, he ended up doing a bunch of other full-time jobs, working in retail for the educational children's toy store Zany Brainy.
But it just wasn't the same.
"Through all of that, I really missed being a scientist," Krupkin says.
That's when Eric Energy was born.
Copyright © 2017, Howard County Times, a Baltimore Sun Media Group publication
This article is related to: Port Discovery Children's Museum